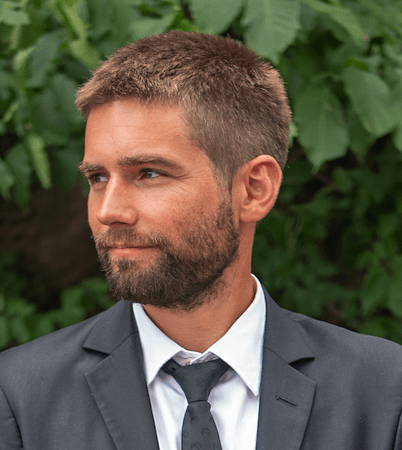 Hi Vetle, good to see you (virtually). Can you begin by telling us a little bit about what you do at Basefarm?

I work as solutions architect in Basefarm's Public Cloud department. I am working to make sure that we can deliver managed services on Azure, defining our product standards, what languages should we develop on, what kind of tooling should we use, etc. We started this work almost from scratch only last year, with just myself and my colleague Asbjørn Wiik, now we are a large team with resources both in Norway and Sweden so things have been moving very fast!
And you have recently been appointed as the Lead Architect for Azure, congratulations. Tell us more about this?
I will now be part of the virtual architect team that reports to our Chief Technology Officer, Frode Sandholtbråten. I will continue to be part of the Public Cloud team but this new role creates a direct line to Frode on certain things which will help ensure that we are aligned with other parts of the business, such as pre-sales or project management. I will also take a larger part of the decision making process for Azure, to make sure we are all on the same page.
Now that we have such a great team in Public Cloud, we had a need to appoint someone as the main contact person, who can then have an overall view of what is happening across Basefarm when it comes to Azure. I am really happy to have this opportunity and are looking forward to working in Frode's team.
So, what does a typical day look like for you?
It varies a lot from day to day but we try to select a few focus areas within the Public Cloud team that we work on until the product or solution is done. At the moment I am in charge of one of those taskforces and the goal is to deliver a managed VM with all the things we deliver within our own datacenters but on Azure. Meaning we work with everything from product development on how this product description should be in our service catalog and contracts to writing ARM templates and building Azure DevOps pipelines tying it all together.
Another part of the job is also to take part in both internal and customer meetings and generally be available for questions regarding Azure from other parts of the business.
That sounds very exciting! Can you tell us more about your career journey within Basefarm?
I have been with the company for around 10 years now and I have had several different positions within that time. I originally joined the Operations Center in Oslo, handling incidents and managing incoming tickets. As I have had several opportunities to progress and take on new things in the company, I have not stayed that long in each role.
Previous to Basefarm I had some experience from Operations in other IT companies in Norway and when I came here was immediately blown away with the level of technical competence people had, it was on a much higher level than what I was used to from my previous companies. I really enjoyed that I was almost immediately working with the full stack and getting involved in lots of different areas which helped me to develop my skills very quickly.
After one year at Operations a position opened in one of the Service Delivery units and I started to work as a Technical Account Manager for a couple of customers. I spent almost five years working in this role as a Senior Systems Consultant. During the last two years in this position I was able to work in several different areas including working with presales and leading implementation projects with onboarding new customers. So when I heard there was going to be a new team created to handle implementation projects specifically I applied and was offered the opportunity to work with them. This was my first solutions architect position, my work was to take the agreement that had been signed with the customer and make it work in production. My first implementation project was a project run from Basefarm's office in Stockholm so I was living there from Monday to Thursday for almost a year. The department expanded with resources in the Swedish offices so after that I focused mostly on Norwegian customers.
In 2017 I started to focus more and more on Cloud technologies and actually got certified on both AWS and Azure, but I have been working with Azure full time since last year when Basefarm gathered all public cloud resources in one department.
What is it that you like most about working with Azure?
Scalability and all the services that Microsoft and partners delivers in the cloud. It is essentially just another cloud and if you don't utilize the features then it is not so different from on-prem. Services like Azure Kubernetes which is really exciting to work with and something that we can use to find great benefits for our customers. So it helps us to add value which is what our customers are looking for. In terms of scalability and global reach you cannot beat Azure (in my opinion). However I am sure the people in my team who work with AWS would disagree there!
Now that I think about it, a lot of my previous projects when I was working as a Technical Account Manager would have benefited a lot from Azure had it been around back then!
So is Kubernetes one of the main technologies you are focusing on just now? And what about other emerging trends that you see?
Yes, Kubernetes is something that we see a lot of interest in from our customers. They want us to deploy Azure Kubernetes and manage it for them so they can focus on containers. I think this will continue to be big over the next few years.
Basefarm is an Azure CSP (cloud service provider) and with this there are some interesting changes with more and more features being available through Azure Lighthouse. Azure Lighthouse is a centralized way to work with multiple customer tenants as a solutions provider (we can essentially manage and monitor things for multiple tenants in a much more effective way). This can be a game changer for us as a solutions provider. It will also be interesting to see what will happen with Azure DevOps and GitHub in the coming year.
Going back to your youngers days, when did you first become interested in technology?
Probably through gaming which was what I was into when I was young. As most kids those days I loved playing Counter Strike, Starcraft and Diablo. I also quite early started building my own computers for gaming purposes.
I started to study pretty much all IT related courses in high school and started to write scripts and playing around with different hardware. I built my own server rack in the basement and was hosting web services for smaller companies and people I knew, so it is safe to say that the interest has always been there.
I never did any formal training within IT, I joined the army when I was 17 and spent five years doing that. When I felt finished with the army I moved to Trondheim and was planning to study but got a job working with an IT company and never really got to applying for school. After a few years working with this company I moved to Oslo and decided I wanted to join Basefarm after a recommendation from friends that knew a few people already working here. I approached them myself and was lucky enough to get a job in Operations Center.
Wow, great that you could pick your own employer! And would you recommend Basefarm to other people wanting to progress in their IT career?
100% yes! It is a great place to both start your IT career or take it to the next level like I did. No matter where you start here there is room to progress. Our CTO started in the Operations Center like myself, now he is the CTO and I am a Lead Architect!
I have seen plenty of people come back to Basefarm after leaving, as they didn't get the same opportunities with other companies. That is the best thing about working here, if you have passion for technology and want to contribute then you can. There is always a possibility to switch departments if you find out that you would like to specialize in different areas.
Last question, what advice would you give to other people looking to start a career within IT?
Well for me it was obviously never that important to get a formal education but clearly it may open some doors for you at the beginning of your career if you have one. Aside from that you need to be technically interested, not afraid to learn new things and go to meetups (virtually of course).
Be willing to start at entry level with a company, start there and show that you are capable and willing to learn. If you are working somewhere like Basefarm then this will get noticed and you should be able to climb the ladder.
In these days I would also advise to pick a cloud and get some knowledge and experience with it early on, this is going to be important so if you have experience with Azure, for example, then it will open up a lot of opportunities. Do some training, do some labs and get some hands-on experience, that is the best advice I can give. There are free tiers in almost every cloud for lab environments, so you can do some training yourself quite easily. Set up a lab in Azure and start playing with the technology, that is what I did!
Ready to take your IT career to the Cloud?
We are actively looking for talented people to join us. Perhaps you have what it takes to be our new Cloud Engineer/Architect? Find out more about here...