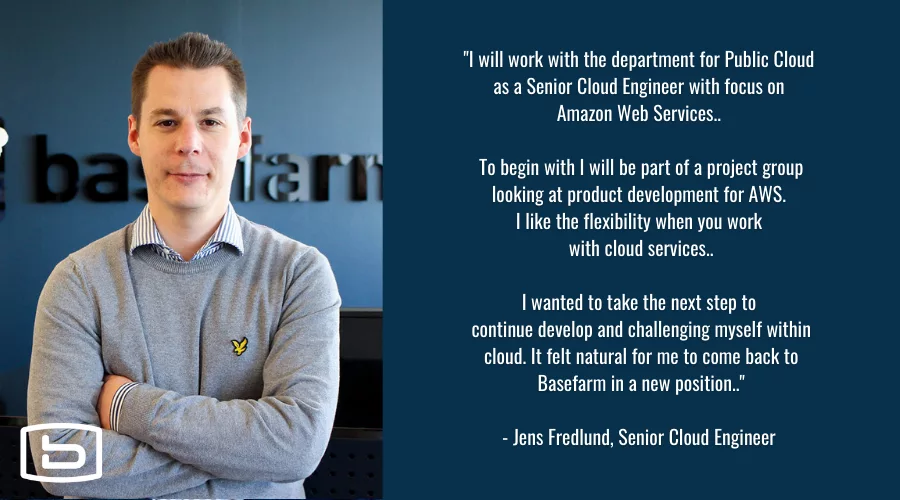 Welcome back to Basefarm Jens!
Can you begin to tell us a bit about what you are going to do at Basefarm?
I am going to work with the department for Public Cloud as a Senior Cloud Engineer with focus on Amazon Web Services. To begin with I am, together with a few others, be a part of a project group looking at product development for AWS.
What is it that interests you the most about your work and the technologies you work with, such as AWS?
I am driven to learn new skills and to continuously try and develop. I enjoy building new environments and that it is possible to try things out. This is partly to see how things work more in depth and partly in order to be able to implement services and products in a better and more efficient way. I like the flexibility when you work with cloud services and that you with IaC can manage the code and recreate the environment in the same way as before and reuse things.
How did your interest in cloud services start and what led you to want to begin working with it?
It was not really a plan I had to begin with as I always had and till did enjoy working with Linux and scripting. But then I had an opportunity at the company I worked at previously as they wanted to renew and streamline their old environments and were therefore creating a new group which would work on the project. I recognised the opportunity to learn more and develop as I knew that cloud is the future and believed that it sounded like an interesting project to work on. This resulted in me getting the opportunity to learn and develop within cloud which was something I realised that I enjoyed working with.
You have worked for Basefarm previously in the position as Linux Technical Engineer and have now decided to come back to Basefarm after having worked at another company for a while, what was it that led your decision to come back to Basefarm?
I have had the opportunity to learn a lot from my previous employer but felt like it was time to try something else and that I wanted to take the next step to continue develop and challenging myself within cloud. It felt natural for me to come back to Basefarm in a new position. I knew what I could expect and things here at Basefarm are done very professionally, on a big scale and I knew I would get the opportunity to see and learn new things here which felt important.
Do you remember when you first got to know about Basefarm in the first place?
I got to know about Basefarm in 2016 when I had worked a couple of years within, for example, Linux administration and had done laboratory work with Linux privately as well. I was interested in and curious to learn more and wanted to work with more large-scale Linux environment. I found the open vacancy for the position as Linux Technical Engineer at Basefarm and though that it would be a great opportunity and therefore sent in my application.
What is it that makes Basefarm special and stand out in your eyes?
I find it hard to narrow it down to one specific thing and would rather say that it is the general concept and the opportunities Basefarm offers both employees as well as customers to develop. In addition to that I have missed the people at Basefarm, the atmosphere at the office and the dedication where everyone works with tech in one way or another to some extent.
How has your first 2 weeks back been?
I have had great first weeks back and it feels very good to be back! I spent the first 3 days at the office which was great as that gave an opportunity to meet some of the colleagues and I hope to be able to continue to spend time at the office. The first week a lot of time was spent on onboarding of course but I have joined some stand-up meetings and look forward to be completely up and running very soon.
Interested in new opportunities within cloud?
Find out more about our cloud department, our job openings or connect with us. Our hope is that we have your future dream job!