Sales & Marketing
·
Amsterdam
Account Manager New Business
Als ondernemende Account Manager ben je uiteraard een sterke netwerker en onderhandelaar in één, maar deze functie is meer, want wij zijn op zoek naar een vakinhoudelijk IT-sparringpartner voor onze nieuwe en bestaande klanten om samen successen te behalen.
Account Manager New Business, dit is jouw baan:
Met jouw ervaring als Account Manager, zit het netwerken in jouw DNA, maar je wilt meer. Jouw focus staat namelijk altijd aan en met jouw commerciële mindset zie je altijd kansen om deuren te openen en new business te genereren. Vanaf het moment dat jij ergens binnenkomt, maak jij jouw statement en ben je doel- en servicegericht. Met jouw dosis mensenkennis en ervaring schakel je met alle lagen van een bedrijf even makkelijk en houd je de belangen van alle partijen goed in de gaten. Je bent dus gepast assertief en prettig in omgang.
In deze functie gaat het niet alleen maar om verkopen van onze dienstverlening en/of producten, want jij wilt dat onze klanten jou zien als hun IT Business Partner, want jij bent namelijk de expert om hen te begeleiden en/of te adviseren over de mogelijkheden met de diensten van hybrid, private en public Cloud. Jij weet namelijk de IT-uitdagingen bij onze klanten te achterhalen en hen hierin feilloos te adviseren.
Ook belangrijk, dit ben jij:
Met jouw ondernemende mindset wil je juist niet in een gespreid bedje terecht komen, want een omgeving met potentie biedt juist mogelijkheden. Daarnaast is het een zelfstandige rol, maar je hecht ook waarde aan samenwerken en de gunfactor, want samen bereik je simpelweg meer. 
Uiteraard ben je van nature communicatief ijzersterk, want als geen ander weet je hoe je een technisch verhaal voor elk niveau kan vertellen. Maar om helemaal in de wolken te zijn in deze functie, heb je HBO/WO werk- en denkniveau en is het een eis om minimaal 5 jaar relevante werkervaring te hebben in een commerciële functie bij een Managed Services/IT-dienstverlener.
 Dit mag je van ons verwachten:
Als onderdeel van Orange Business Services (internationaal IT-bedrijf en onderdeel van het Franse bedrijf Orange) krijg je te maken met best of both worlds; zowel nationaal als internationaal aan de slag gaan in jouw vakgebied.
Wij vragen veel en daar krijg je ook zeker wat voor terug. Uiteraard is het financiële plaatje belangrijk en daarover gaan wij in gesprek. Daarnaast maak je aanspraak op een bonus en is een leaseauto, laptop en smartphone uiteraard part of the deal. Naast 8% vakantiegeld en 26 vakantiedagen (op basis van 40 uur), krijg je ook een halve dag cadeau op je verjaardag, want dat moet natuurlijk gevierd worden!
Ready to reach the #Cloud with us?
Met jouw kennis en ervaring gaan wij er eigenlijk van uit, dat wij jou niet hoeven te vertellen wat je nodig hebt om succesvol te zijn. We nodigen je graag uit, zodat jij het aan ons kan vertellen. Als je vragen hebt of aanvullende informatie wilt ontvangen, dan kan je mij (de plaatser van deze vacature ;) bellen, appen of mailen; +31(0)6-11316928 | r.dutrieux@loginconsultants.nl
Een online assessment (op HBO/WO werk- en denkniveau) zal onderdeel uitmaken van het sollicitatieproces.
In het kader van ons integriteitsbeleid, dient er een 'Verklaring Omtrent het Gedrag' (VOG) aangevraagd te worden. Het ontvangen van een VOG wordt opgenomen als ontbindende factor in de arbeidsovereenkomst. Als je geen VOG kunt aanleveren, kunnen we je helaas niet aannemen.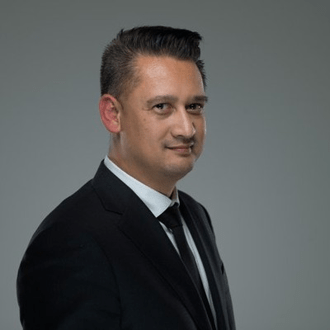 Related jobs
Meet our CEO
"Basefarm has an amazing team with an incredible commitment to its customers.
The industry for managed services as a whole is undergoing an exciting development, with growing demand for Basefarm's hybrid cloud services which includes both public and private cloud, and the complexity of security and compliance around the same.

In 2018 Basefarm became part of the Orange group, who is already a major player in the cloud services business. Together we're able to build a pan-European leader in cloud managed services, something which will benefit Basefarm and our customers."
Fredrik Ohlsen, CEO Basefarm
About Basefarm
We are a European Managed Service Provider. We create market leaders by integrating the key competencies for digital transformation – big data, cloud computing and information security, into one service offering. We provide strategic advice, implementation projects and infrastructure operations under one management and on any cloud.
Basefarm was founded in Oslo during 2000 and today our team of 760 top engineers and advisors are servicing global clients from our European offices and data centers in Norway, Sweden, The Netherlands and Germany.
In August 2018 Basefarm was acquired by the Orange Group, a leading global telecommunications operator, to reinforce the cloud expertise of its enterprise division Orange Business Services

Already working at Basefarm?
Let's recruit together and find your next colleague.